Multifunctional trimodal hub in the heart of Wallonia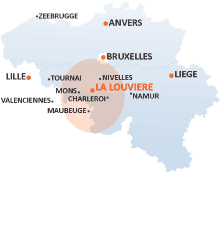 Garocentre Terminal is a 6ha trimodal logistics platform located in La Louvière, at the heart of the Walloon Region. The terminal is given over to intermodal handling and inland waterway and rail transport of all types of goods and containers.


The platform offers:

An easy, reliable and profitable point of entry for maritime containers to the large seaports.


A secure interconnection point between inland waterways, rail and road for continental supply flows of steel products, cargo, pallets, big bags, and other containerized or non-containerized goods.